Registering Your Small Business With Google To Have Your Own Profile
One of the best things you can do for your business online is to register it with Google Business. I will provide a link below to sign up. What you will get is your profile will show up in Google search results whenever someone searches for your business. You will also be put on Google Maps, have a Google+ page, and be able to receive reviews online on Google. I will show you what my profile looks like whenever someone searches for Something Web Design below.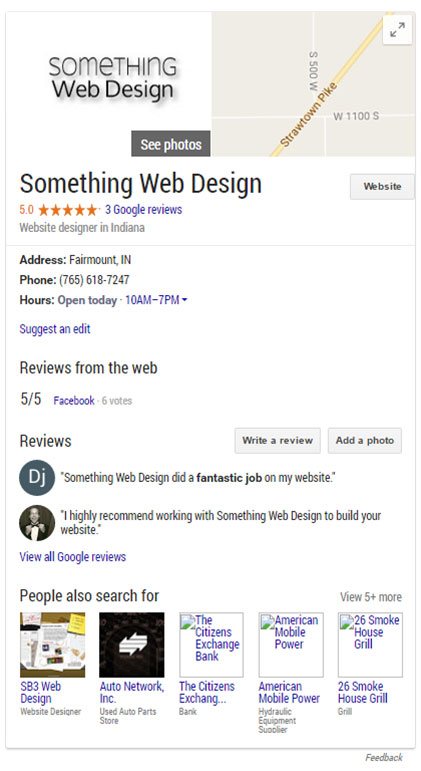 How To Sign Your Small Business Up With Google Business And Get Noticed
If you Google your business name and your profile shows up but you have not signed up yourself then click Own This Business? and you will be able to take over it then. To sign up you will either have to have a post card sent to the address you have listed for your business or if your profile was already there you can just have them call you with a code. Once you are signed up with the code, you can then add in all the info for your business on the about page of your Google+ profile. To get there you go to plus.google.com and then in the upper right corner you will see a circle, click that circle and then select your business. On the about page find the contact information section and then click edit business information.
Get Your Small Business On Google Maps With Location And Directions
All of this information on this page is extremely important. Be sure to fill it all out. The address is where they will place your business on Google Maps. So on Google Maps your customer will just be able to type in your business name and they will be able to find your business without knowing your address. Phone number is extremely important also because on cell phones when your profile shows up after searching your business's name, they can click the call button and it will instantly call your business without having to know your number or visit your website.
Selecting The Right Category For Your Small Business
Category might be the most important because this will have people find your business who weren't searching for your business. Say you own Sam's Family Restaurant. Someone in your area searches for restaurant. Google will then show a list of all the restaurants in your area including your business Sam's Family Restaurant. They can then see your profile for your restaurant and find out more info about you.
List Your Small Business's Hours You Are Open On Your Google Listing
Then add in your hours as you definitely want your customers to know when you are open. There is a section for special hours also if you are closed on holidays. Then add in a few paragraphs about your business. One last section you should edit is photos. Here you can add in the logo that will show up in your profile and you can also add in some additional pictures that will show up like some products that you offer or the inside of your business. As you can see by all this signing up for Google Business is definitely worth your time and should be done by all business owners.
Sign Your Business Up For Google Business!
Read More About What I Can Do To Create Your Small Business Website